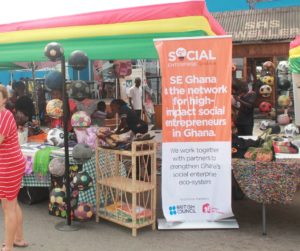 BUY SOCIAL is an initiative within the I AM SOCIAL campaign and is aimed at encouraging Ghanaians to think about how their spending  creates impact ,while creating  a market for social enterprise that are supporting Ghana to meet the sustainable Development Goals, as well as growing the business sector and creating jobs.
In partnership with the Ministry of Trade's Made in Ghana Fair 2017, and kindly sponsored by British Council, SE Ghana provided space for members to showcase their products and the vibrant social enterprise ecosystem of Ghana.
In rush to buy Christmas and festive gifts for loved ones, we hope people to take a moment to think about where their hard earned money is going.
#SEGhana
#SOCENT
#BUY SOCIAL